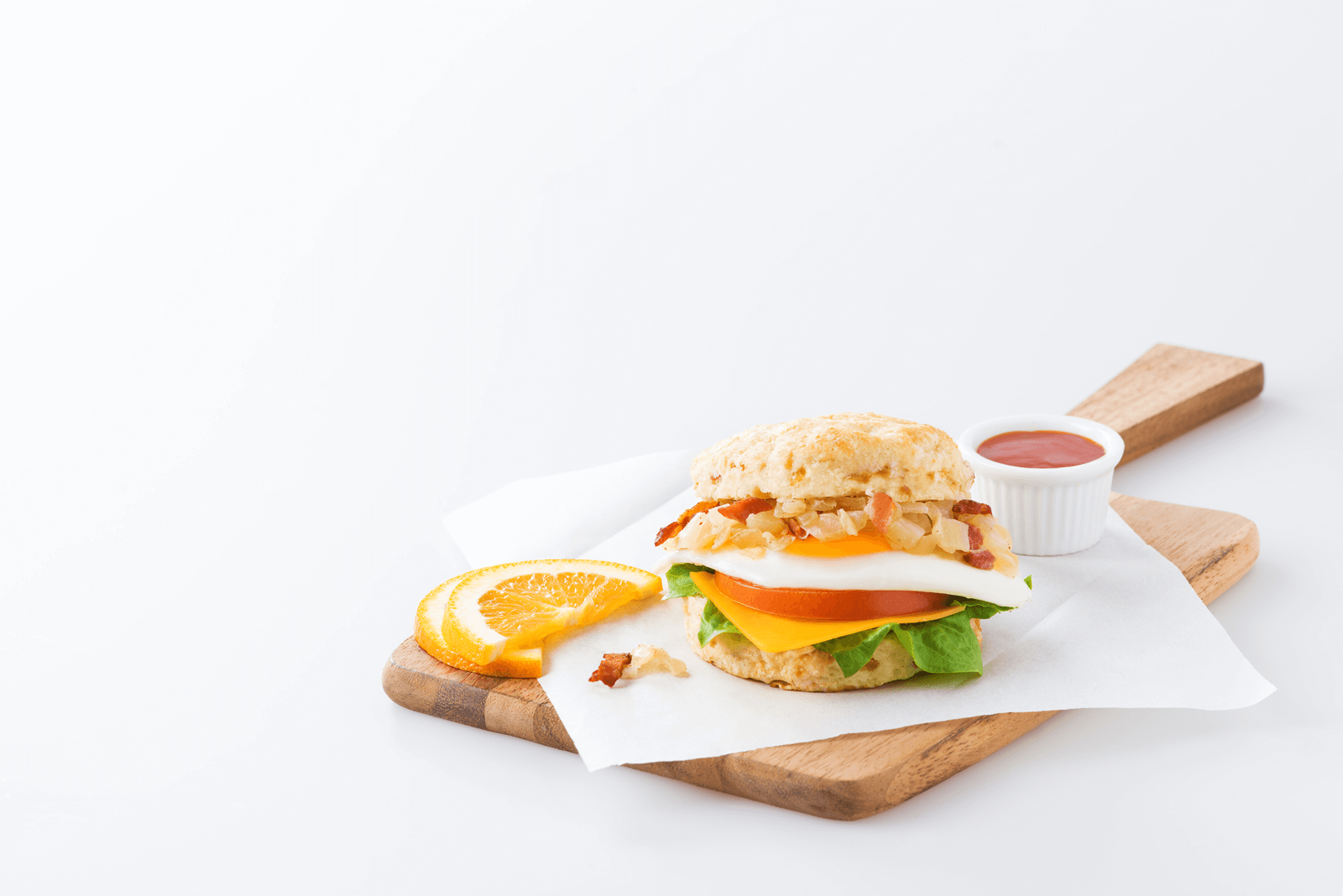 A light and fluffy North Carolina-style buttermilk biscuit is loaded with bacon and Idaho-Eastern Oregon Onions to make the ultimate breakfast sandwich.

YIELD: 12 sandwiches

INGREDIENTS

Bacon and Onion Biscuits:
12 slices bacon, chopped (11.5 ounces)
3 Idaho-Eastern Oregon Spanish yellow onions,
finely chopped (2 lb)
3 3/4 cups all-purpose flour (1.25 lb)
5 tsp baking powder
3/4 tsp baking soda
3/4 tsp salt
3/4 cup cold unsalted butter, cut into small small cubes (6 ounces)
1 cup buttermilk (approx.)

Sauce:
2 1/2 cups barbecue sauce
1/2 cup apple cider vinegar
Pinch cayenne pepper (optional)

Breakfast Sandwich:
12 leafy lettuce leaves
12 slices tomato
12 fried eggs
12 slices Cheddar cheese

METHOD

Biscuits: Heat skillet over medium heat. Cook bacon until lightly golden brown. Add onions. Cook, stirring, until onions are soft. Cool completely.

Preheat oven to 400°F. Line a baking sheet with parchment paper. Stir flour with baking powder, baking soda and salt. Cut in butter until mixture resembles coarse crumbs. Sprinkle half of the onion-bacon mixture over top. Stir in 1 cup buttermilk, adding 1 to 2 tablespoon more if needed.

Transfer mixture to lightly floured surface. Without overworking, knead gently until dough just comes together. Pat into 1-inch thick rectangle. Using a 3-inch biscuit cutter, cut into 12 rounds.

Brush tops lightly with buttermilk. Bake for 15 to 20 minutes or until golden.

Sauce: Stir barbecue sauce with vinegar and cayenne until well combined.

1 Sandwich: Sandwich a lettuce leaf, tomato slice, fried egg, cheese slice and 1 tbsp remaining onion-bacon mixture between a halved biscuit. Serve with 1/4 cup barbecue sauce on the side.

Tip: Baked biscuits can be frozen for up to 1 month.