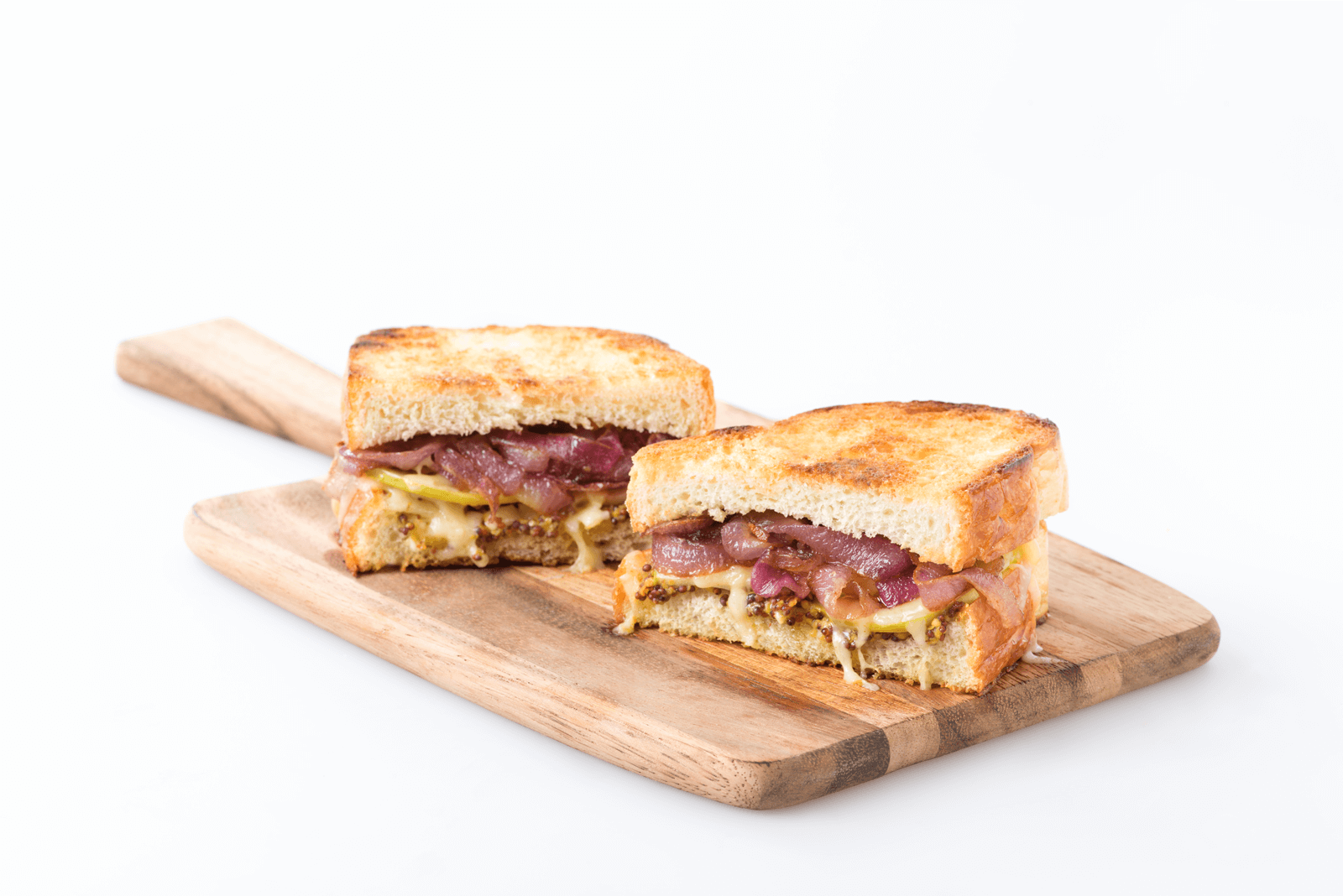 Like the iconic Chicago Deep Dish pizza, this grown-up grilled cheese is generously filled with favorite ingredients. Try this winning combination including rich caramelized red onions, smoky cheddar cheese and sweet apple slices sandwiched between thick slices of crusty bread.

YIELD: 12 sandwiches

INGREDIENTS

Caramelized Red Onions:
1/4 cup butter (2 ounces)
8 red onions, sliced (4 lb)
2 tsp salt

Grilled Cheese:
1 1/2 cups butter, softened (12 ounces)
24 slices crusty bread, about 1-inch thick
3/4 cup grainy mustard
6 apples, cored and thinly sliced (2.25 lb)
12 slices applewood-smoked Cheddar cheese (1.5 lb)

METHOD

Caramelized Red Onions: Melt butter in a large heavy-bottomed pan over medium low heat. Cook onions, stirring often, for 60 to 90 minutes or until golden brown. Season with salt. Cool completely.

1 Sandwich: Between 2 slices of bread, spread 1 tbsp mustard, 3 ounces apple slices (about 1/2 apple), 1 slice cheese and 1/4 cup (1.5 ounces) caramelized onions. Butter outer bread slices. Cook sandwich over medium-low heat until golden brown on each side and cheese is melted. Cut in half before serving.

Tips:
Use a tart crisp apple such as Granny Smith, Cortland or Fuji.
Toss apple slices in lemon juice to prevent browning.
Serve with pickles and hearty green salad for a complete meal.