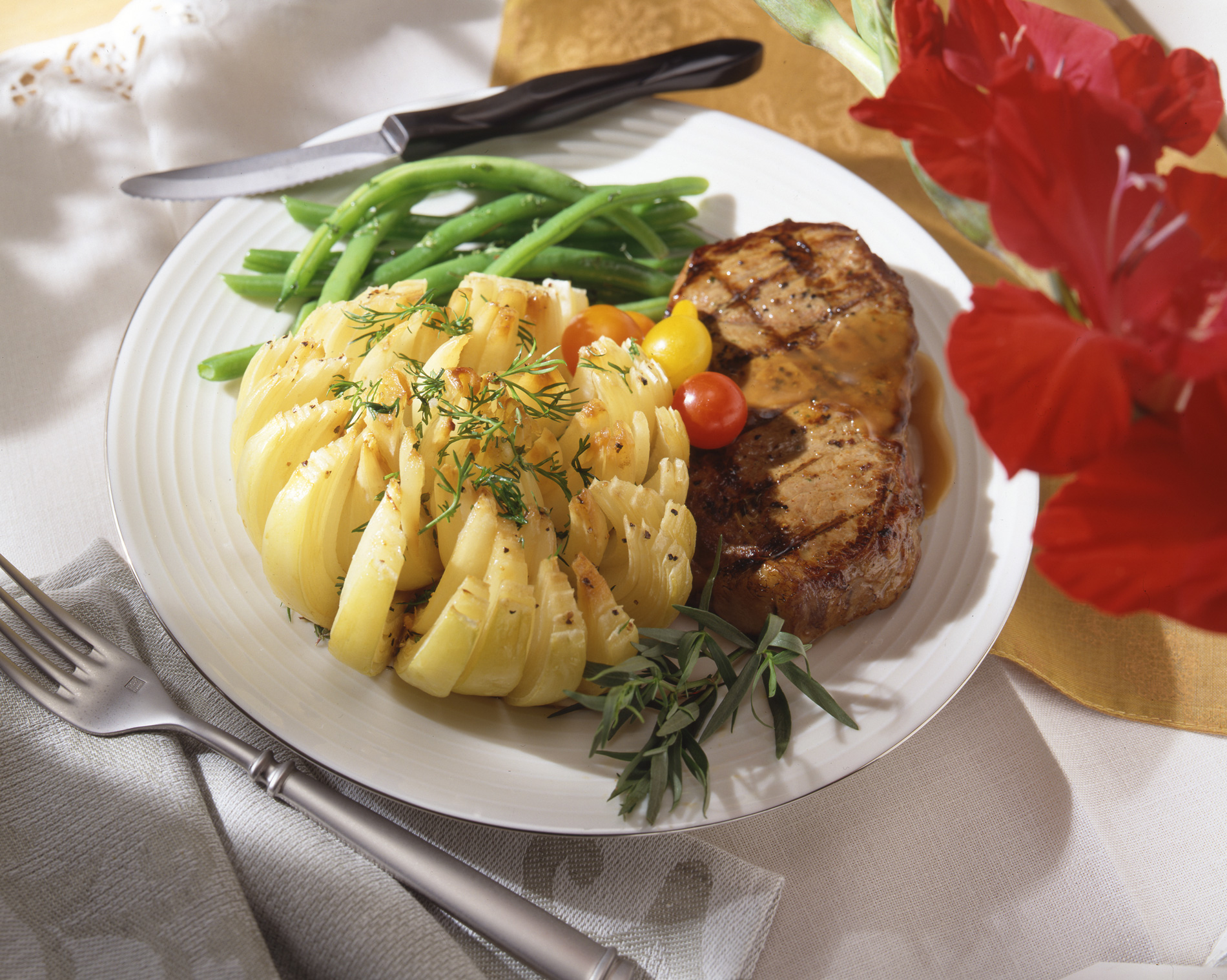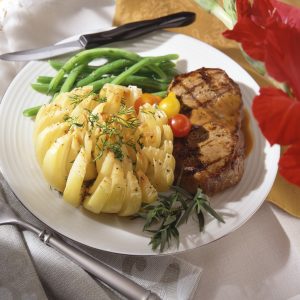 Foil Baked Onion Blooms
Instructions
Preparation:
Using a 3 to 3¾ inch jumbo yellow Idaho-E Oregon Onion, cut ½ inch off of the top and slightly trim the root end but DO NOT cut into the root base.

Bloom the onion with an onion bloom machine or by hand; see instructions below.

Set bloomed onion on a 10 inch square sheet of foil.

Use our recipes or create your own seasonings and spread the mixture over and around the petals.

Wrap the foil around seasoned bloom, pinching edges together tightly.

Repeat with as many onions as needed.

Place wrapped blooms upright in a pan and bake at 425°F for 25 to 35 minutes, depending upon oven and onion size.

When baked, onions should be tender but petals should still have body and stand upright.

Do not over bake.

After plating, petals may be fluffed with a fork.

Garnish with dry parsley flakes, paprika, dried red pepper flakes or fresh herbs for colorful presentations.

Baked, wrapped blooms may be held in warm, not hot, location for 1 hour before serving.
Bouillon Bloom:
Combine 1 crushed bouillon of chicken or beef with 1 Tbls. Butter and 1/8 tsp. of pepper per bloom.

Chicken seasoning compliments broiled, sautéed or grilled chicken or roast turkey; use beef to accompany steaks or roasts.
Barbecue Bloom:
Combine 2 Tbls. thick, smoky barbecue sauce and ¼ to ½ tsp. hot sauce per bloom.

Good with chicken, beef, ribs, and Mexican dishes.
Mesquite Bloom:
Sprinkle 2 Tbsp. of dry mesquite flavored marinade mix over each bloom.

This spicy bloom goes well with grilled beef, pork, chicken, or shrimp, beans and rice.

Serve with cilantro and lime wedges.
Caramelized Mustard Bloom:
Combine 1 Tbsp. of prepared yellow mustard, 1 Tbsp. of packed brown sugar and 1/8 tsp. of pepper.

Serve with ham, pork, or chicken.
Ginger-Teriyaki Bloom:
Sprinkle 1 Tbsp. of Teriyaki sauce, ½ tsp. of sesame seed oil, ½ tsp. of garlic salt, ½ tsp. of pared, finely grated fresh ginger root, and ½ tsp. of red pepper flake over each bloom.

Compliments fish, chicken, and Asian dishes well.
Mediterranean Bloom:
Spread 2 Tbsp. of prepared sundried tomato pesto over each bloom.

Sprinkle with ¼ tsp. of pepper and ¼ tsp. of garlic salt.

Serve baked bloom with slivered fresh basil leaves, pine nuts, and grated Parmesan cheese.

For a vegetarian meal or to accompany beef, lamb, pork, or chicken.
Hand Cut Blooms:
Peel the onion. Cut ½ inch off of the neck end.

Slightly trim the root end but DO NOT cut into the base.

DO NOT CUT THROUGH THE ROOT BASE.

Turn the onion upside down.

Insert a paring knife ½ inch below the root base and cut each quarter into four to six more sections by cutting downward.

Leave core intact until onion is cooked.