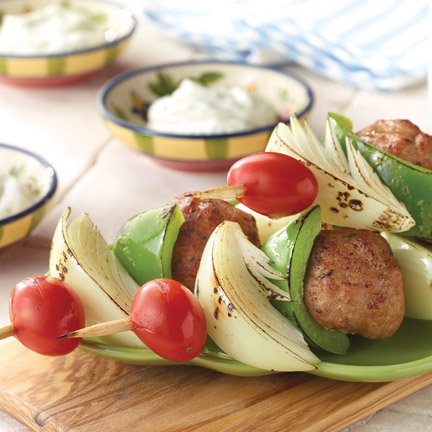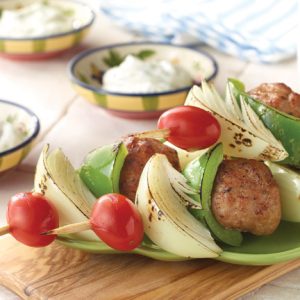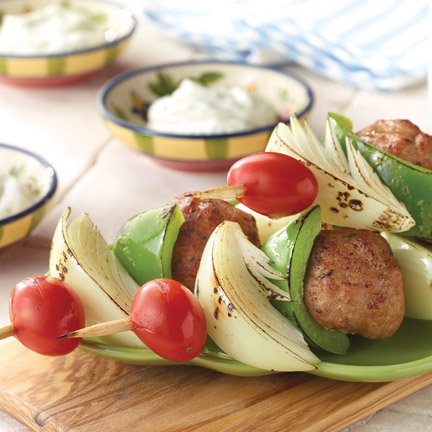 Turkey and Onion Meatball Kabobs With Yogurt Dipping Sauce
Ingredients
1

Tbsp.

cumin seeds

1

cup

plain yogurt

1

Tbsp.

chopped cilantro

1

Tbsp.

chopped chives

3/4

tsp.

honey

1/4

tsp.

salt

1

lb.

ground turkey

3

cloves

garlic chopped

2

tsp.

lemon zest

1/4

tsp.

kosher salt

1/4

tsp.

cayenne pepper

1

large Idaho-E. Oregon yellow onion peeled and cut in thin wedges

1

green pepper cut into 1" squares

12

cherry tomatoes
Instructions
Heat small pan over medium heat. Add cumin seeds. Toast, stirring frequently,

about 3 minutes, until seeds are fragrant and slightly browned. Remove seeds to

spice grinder or mortar and pestle; grind to a moderately fine powder.

Make dipping sauce: In medium bowl, combine yogurt, cilantro, chives, honey,

salt and 1 tsp. ground toasted cumin. Cover and refrigerate at least 1 hour.

In medium bowl, combine turkey, garlic, lemon zest, salt, cayenne and 1 tsp.

ground toasted cumin; mix gently but firmly. Shape into 18 1-1/2" meatballs.

Preheat grill. On metal skewers (or bamboo skewers that have been soaked in

water 30 minutes), thread a meatball, onion wedge, pepper square and cherry

tomato. Repeat. Finish skewer with another meatball and onion wedge.

Grill until meatballs reach internal temperature of 160°F., turning as needed.

Serve immediately with dipping sauce.
Notes
Notes:
For mini-skewers, use 2 meatballs, 2 onion wedges, 1 cherry tomato and 1 pepper square on each skewer. Makes 9.
Ground veal may also be used in place of ground turkey.