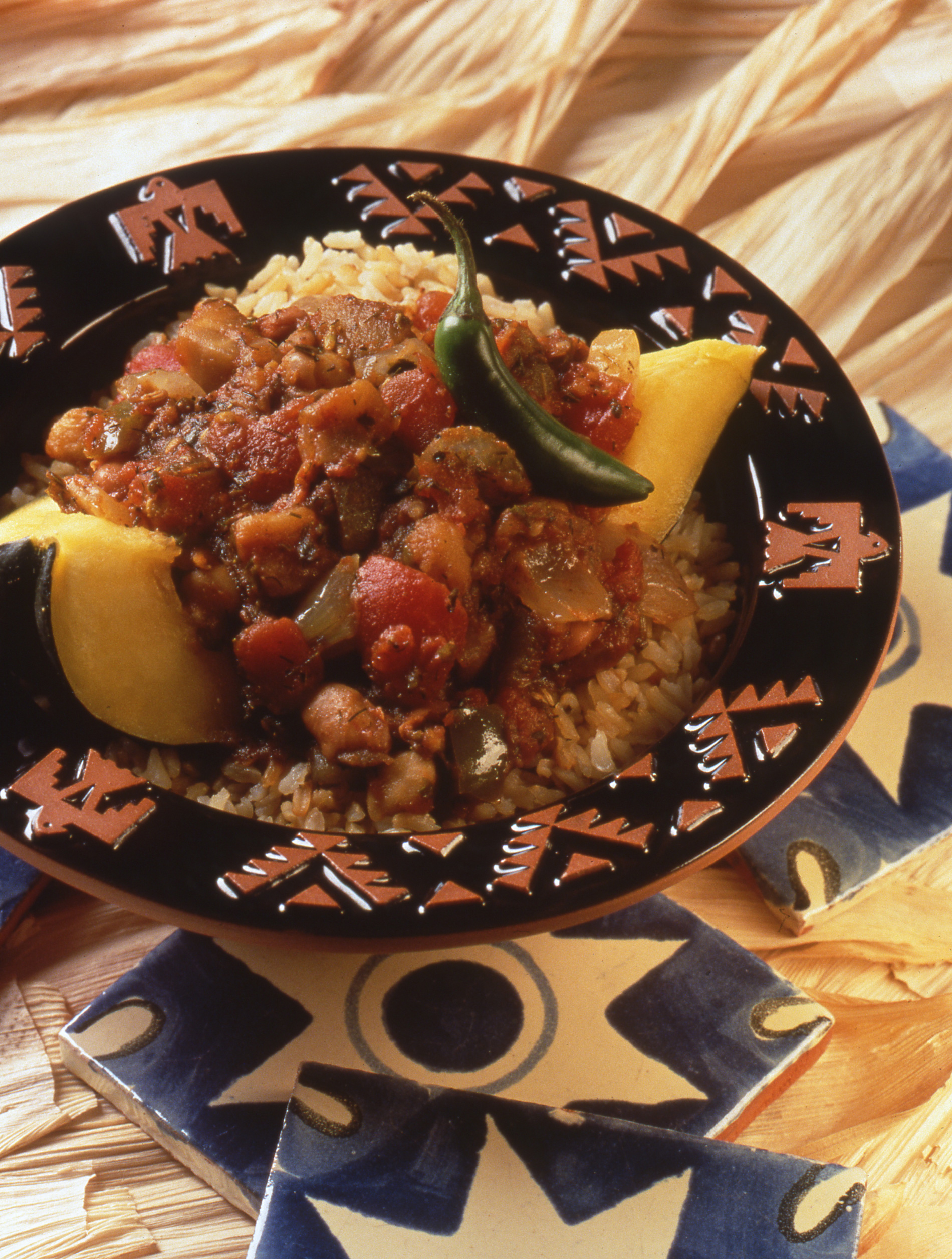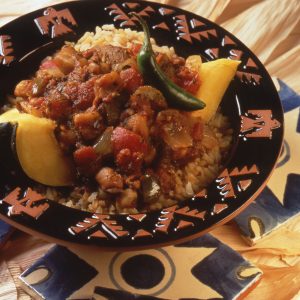 Vegetable Chili with Onions and Eggplant
Ingredients
2

medium eggplants pared cut into ½ inch cubes

2

Tbsp.

kosher salt

1

c.

divided Olive oil

2

jumbo Idaho-E Oregon onions dices

4

Green peppers diced

2

Tbsp.

garlic chopped

2

qt.

canned diced tomatoes undrained

2

qt.

fresh tomatoes diced

1

c.

fresh parsley chopped

¼

c.

Chili powder

2

Tbsp.

ground cumin

2

Tbsp.

dried Oregano

2

Tbsp.

dried Basil

1

Tbsp.

ground black pepper

1

Tbsp.

fennel seed

2

tsp.

salt

2

c.

Anasazi or Pinto beans cooked or canned

2

c.

Garbanzo beans cooked or canned

¼

c.

dried Dill weed

¼

c.

lemon juice

16

wedges of steamed acorn squash
Instructions
Place eggplant in colander and sprinkle with kosher salt. Let stand 1 hour. Pat eggplant dry with towel. Heat ¾ cup oil in large skillet over medium heat. Add eggplant and sauté until tender. Remove eggplant and set aside.

Heat remaining ¼ cup oil. Add onions, green pepper, and garlic. Sauté for 10 minutes or until onions are softened.

Add sautéed eggplant to pan. Reduce heat and add canned undrained tomatoes, fresh tomatoes, parsley, chili powder, cumin, Oregano, Basil, pepper, fennel, and salt. Cook uncovered for 10 minutes, stirring frequently. Stir in beans, dill, and lemon juice. Cook 15 minutes longer. Stir well and adjust seasonings.

To serve, spoon chili into hot wedge of squash on plate. Garnish with chili pepper and accompany with hot steamed brown rice, if desired.